Wing Haven Garden & Bird Sanctuary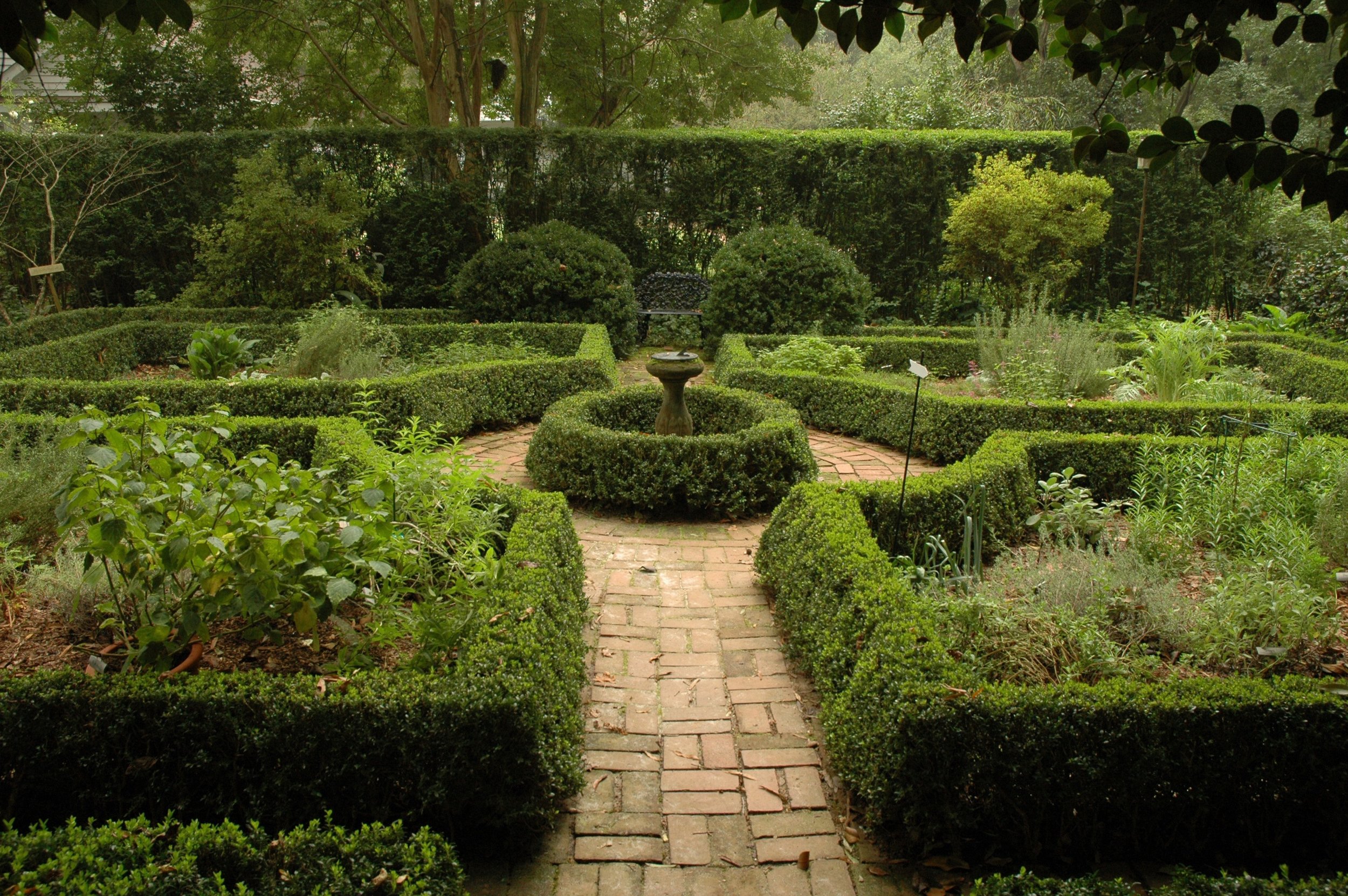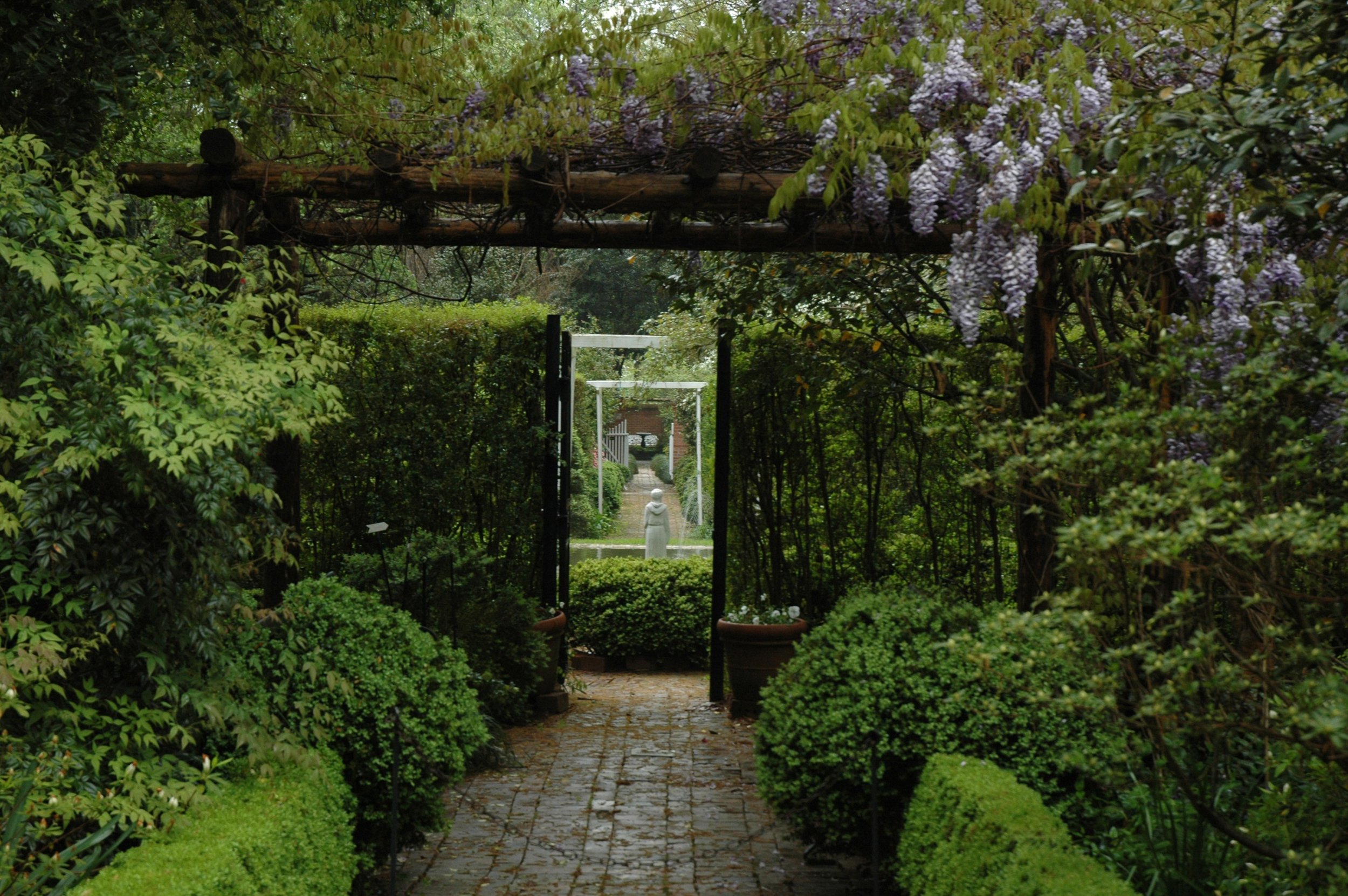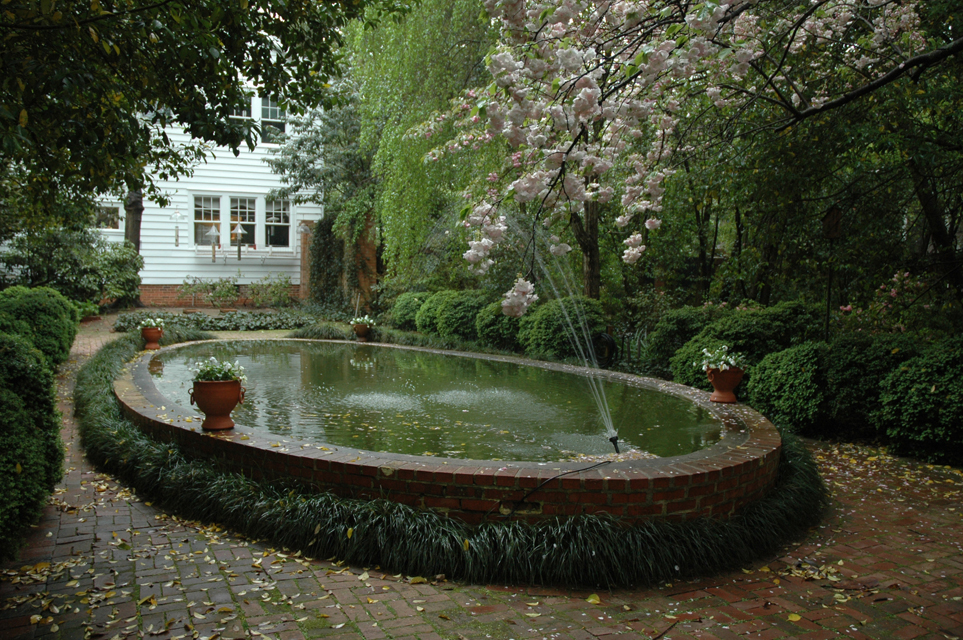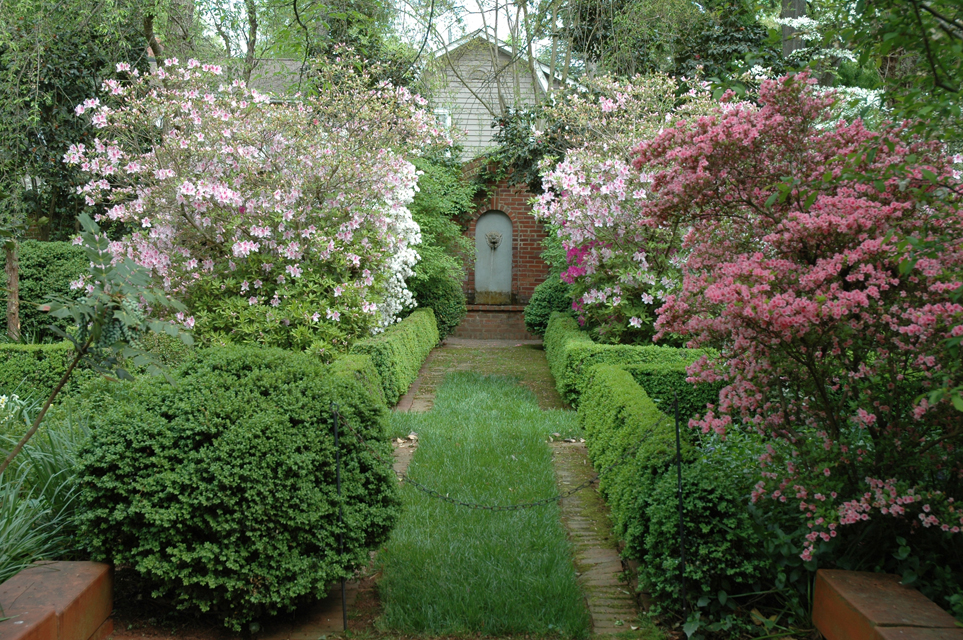 Wing Haven Garden & Bird Sanctuary has been a special part of Charlotte since its creation by Elizabeth and Edwin O. "Eddie" Clarkson in 1927. Nestled in a quiet residential neighborhood just three miles from Charlotte's bustling center city, it's hard to imagine this was once a wide open field of red clay. Between 1927 and 1937, Eddie Clarkson purchased a total of eleven parcels as they could be afforded, and the gardens grew to nearly three acres. Certainly, the Clarksons were visionaries.
The Garden
The Clarksons skillfully designed their gardens with beauty and birds in mind. Throughout, plantings offer interest in all seasons as well as cover, nesting sites, and food for feathered friends. Pools, fountains, and numerous birdbaths provide fresh water. There are formal areas, an herb garden, and woodlands with meandering paths. The gardens are enclosed on all sides by brick walls, and brick paths anchor vistas throughout. Building the walls and paths was slow-going. Over many years, on anniversaries, birthdays, or any old occasion, the Clarksons gifted each other with a thousand bricks at a time (350,000 bricks in total) to complete their vision. Plaques and statuary, integrated into the garden walls and paths, were carefully chosen over 44 years by Elizabeth Clarkson, and reflect the spirit, beauty, dedication, and passion of Wing Haven and its creators.
In 1940, Elizabeth Clarkson helped found the Mecklenburg Audubon Society, an organization still involved with Wing Haven today. For years, Elizabeth Clarkson kept a journal, noting every species of bird she nursed back to health or saw in her garden. In 1944, she compiled these observations in the self-published Birds of Charlotte and Mecklenburg County, North Carolina, a comprehensive guide to local and migratory birds. To date, including those noted by Elizabeth Clarkson in her journals, over 150 bird species have been spotted here.
Wing Haven Foundation
To ensure the preservation and maintenance of their gardens indefinitely, the Clarksons formed the Wing Haven Foundation in 1970. In 1971, they generously gifted their gardens to the Foundation. Since that time, our Board of Directors has been responsible for maintaining the property in keeping with the Clarksons' spirit and intent.
Today, the Wing Haven Foundation is a non-profit organization that owns and operates Wing Haven Garden & Bird Sanctuary and the Elizabeth Lawrence House & Garden.
1900
Edwin Osborne is born to Justice Heriot and Mary Osborne (Mamie) Clarkson in Charlotte, NC

1904
Mary Elizabeth is born to David W. and Mary Lee Crisp Barnhill in Uvalde, TX

1922
Edwin Clarkson receives a BS in Engineering from NC State College of Agriculture.

1924
While working for Wellington, Sears and Company of Boston, Eddie Clarkson meets Elizabeth Barnhill, a student at the New England Conservatory of music.

1925

Elizabeth Barnhill completes her studies at the New England Conservatory and begins performing as a concert pianist.

1926

Edwin Clarkson purchases a small lot (75' x 225') on Ridgewood Avenue and drives to Uvalde, TX to propose to Elizabeth Barnhill. (Within 10 years Clarkson purchases all of the vacant adjoining property, almost 3 acres.)

1927

The Clarksons marry and settle into their new home at 248 Ridgewood Avenue.

1930

While recuperating from undulant fever Elizabeth Clarkson begins to study ornithology.

1936

The Clarksons rescue a family of baby bluebirds: Tommy, Lady, Little Fellow and Snuggler. Tommy will live in the Clarkson home for 8 years.

1940

Elizabeth Clarkson forms the Mecklenburg Audubon Society.

1944

The Dowd Press publishes The Birds of Charlotte and Mecklenburg County, North Carolina written by Elizabeth Clarkson.

1948

Elizabeth Clarkson documents the effects of DDT on birds and succeeds in having the spray halted in Charlotte.

1953

Arguing that the value of DDT exceeds its potential harm, the City of Charlotte resumes spraying DDT but agrees not to spray along Ridgewood Avenue.

1962

Rachel Carson publishes A Silent Spring.(EPA bans the widespread use of DDT in 1972.)

1971

The Clarksons form the Wing Haven Foundation, Inc. to preserve and protect their garden.

1978

Elizabeth Clarkson receives an Honorary Doctor of Science degree from Queens College.

1979

The Wing Haven Nursery Shop opens for business.

1983

Wing Haven hires its first Director/Curator.

1987

The 6oth Anniversary Campaign, Wing Haven's first capital funds drive, raises the funds for the construction of an Education Center (formerly called the Willow Oak Room and now the Education Building) and the completion of much-needed repairs to the Clarkson home and garden.

1988

Elizabeth Clarkson dies in her home on Ridgewood Avenue.

1989

Hurricane Hugo downs over 75 trees in the garden.

1989

Wing Haven hosts its first biennial symposium.

1991

A Bird in the House: The Story of Wing Haven Garden by Mary Norton Kratt is published.

1993

Edwin Clarkson dies.

1994

The Gardeners' Garden Tour is established to celebrate the work and dedication of 'hands-on' gardeners

1994

The Wing Haven Foundation purchases a parcel of property behind the parking lot to increase the acreage available as a natural habitat for birds and wildlife.

1998

The 1998 Capital Campaign provides funding for new facilities for our children's educational programs, nursery shop and offices as well as an endowment.

2005

Wing Haven hosts its first biennial Garden Gala, a black-tie event held to raise critical operating support for the garden.

2008

The Campaign for the Elizabeth Gardens of Wing Haven funds the purchase of the Elizabeth Lawrence House and Garden as well as many much-needed improvements and repairs for the Clarkson and Lawrence properties.